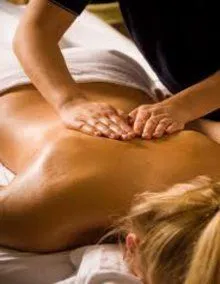 Deep Tissue Massage - Deep tissue massage works by breaking down muscle adhesions that often build up after an accident or are the result of a chronic illness.  By applying intense, controlled pressure and friction to an afflicted area across the grain of the muscle, deep tissue massage relaxes rigid tissue and relieves the pain associated with stiff muscles, ligaments and tendons.  Deep tissue massage may cause some discomfort and therapists encourage their clients to keep them informed about their comfort level and pain tolerance during deep tissue therapy.  Therapists may encourage their clients to apply ice to tender spots following a deep tissue massage.  Some soreness the day after a deep tissue massage can be expected, though the discomfort should pass in a day.
Relaxation Massage – The goal of a relaxation massage to is relax you. This type of massage is gentle and less intense that some of the other styles. The therapist gently works the upper layers of the muscle tissue to increase relaxation. Relaxation massage is a total experience as it is preformed in a dim setting, with candles and sometimes with scented oils.
Myofascial Release - Myofascial release involves applying gentle, sustained pressure to the Myofascial connective tissue restrictions. The massage relaxes the contracted muscles and increases venous and lymphatic drainage. Myofascial release treats somatic dysfunction and relieves the accompanying pain and limited range of motion.
Sports Massage — Sports massage works on the connective tissue and deep muscle structures. The massage is applied using hard and deep strokes, combined with finger pressure. Sports massage is specifically designed to increase flexibility and prevent injuries. It is specifically designed for the types of injuries obtained during athletic activity.
Swedish Massage - Swedish massage increases blood circulation to more than 4 times its normal rate. The massage releases the stagnant toxins stored in the muscle fibers. The result is fresh oxygenated blood flow into the muscles, that boosts energy levels.